Operating a construction company or successfully handling a construction project is not everyone's cup of tea. It takes a lot of effort, research and analysis, and prudential decisions on time to make sure the project meets the defined goals. Construction owners juggle establishing a balance amidst the interest and preferences of customers, regulators, and multiple partners and vendors.
Reading between the lines of the two successive Global Construction Surveys, viz., 2016 and 2019, it's evident that the adoption of technology is critical in overcoming some of the sector's greatest challenges, moving towards a greener and more sustainable world, and making the business profitable. GCS is part of the KPMG Future-Ready Index.
The selection of the right project management system or project management information system (PMIS) can make a big difference to its owner and stakeholders.
However, the technology investment must address the pain points of the sector. Rounding up that from the perspectives of different stakeholders will help you understand how to select the right PMIS.
1. Predictability
Vice presidents, directors, senior directors, or other members from the senior-level management anchoring project's responsibilities are concerned about timeliness and profitability. Clear projection of time and money is instrumental to the success of a project. Invariably, they depend upon the finance manager for the budget or revenue estimation. The finance manager needs easily accessible benefit-measurement methods and tools to project  what projects are going to yield benefits, and what are prone to risks. The assessment of net present value (higher preferred), payback period (shorter preferred), ROI (higher preferred), opportunity cost (the highest value of the project not being selected), benefit-cost ratio (larger is preferred) and internal rate of return (larger preferred) is pivotal. Initial estimation helps them optimize the cost and mitigate the risks.
2. Visibility
Distributed information across multiple departments or silos makes it difficult for executives, EVPs, and vice presidents to access and share actionable data, which is important for prudential decision-making and timely execution of tasks. Directors and senior directors of the projects find the lack of mission-critical insights as a barrier in prioritizing tasks (Important Vs. Urgent) and delivering more with the available resources and constraints.
3. Collaboration
Clear and real-time communication is another pain point area for program managers, project managers, or planning managers. Lack of adequate communication makes them feel isolated from the rest of the organization and it hampers the project completion – qualitatively and quantitatively.
4. Conformance
Establishing conformance of processes to defined construction standards within a system and outside is one of the key challenges of the construction sector. Non-adherence to conformance means standard violation. The process deviation jeopardizes the project's quality and makes the project prone to failures or loss. In the absence of the right pmis software comparison, business analysts, administrators, and auditors often face coordination challenges. The inadequacy of insightful information further adds to their woes.
OnIndus: Making a Difference
OnIndus presents a commercially viable solution with its offerings. Learn how we can complement your workforce skills and capabilities and make them deliver their best – it ultimately leads to your success.
1. Business Automation
A 2017 study from the McKinsey Global Institute (MGI) reports that 47% of the repeated tasks in the construction sector can be automated. It places construction at the 8th slot in terms of the adoption of automation. It lags behind accommodation and food services, manufacturing, agriculture, and other sectors. You can automate most of the tasks across a project, including capital planning and cash flow analysis, design, planning, and management, supply chain management, and bidding and procurement with the involvement of an effective project management information system San Francisco (PMIS).
2. Adoption and Learning
Forty-six percent of the respondents who participated in the Global Construction Survey 2019 admitted that the quality of human resources is the most significant factor in delivering a successful project. Twenty-eight percent attributed the success to technology, and 26 percent to process and governance.
The investment in technology is not enough. Simultaneously, you have to train your people to help them make the most out of it. OnIndus Harmony is a learning platform that delivers custom module training to those working in your PMIS – contractors and owners, who can pass on the knowledge to authorized teams and individuals working on the projects. They can also oversee how different users utilize the PMIS features and capabilities, identify the barriers, and implement suitable training modules to overcome those.
3. Business Intelligence
The latest KPMG Report finds that top players in the sector are fully committed to investing in technologies that can enhance performance. They believe in the power of machine learning and artificial intelligence (AI) and are quick to adopt.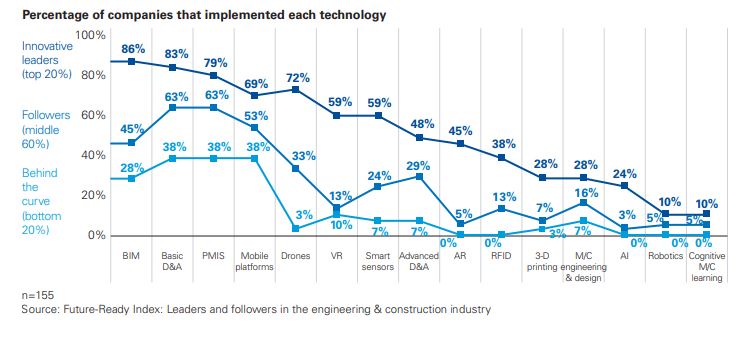 Source
Data and analytics or BI provide a real-time picture of the construction progress and how different operations and people contribute to its success – from design and planning and procurement of raw materials to constructions and delivery. Business intelligence enables swift action to resolve problems. Make sure that the project management system you opt for provides the insights you need. By enabling construction project owners to get meaningful data from PMIS, GIS, Accounting/ERP, Asset Management, SFTP, and other enterprise applications, OnIndus Orchestra helps them innovate and accelerate their work.
4. Change Management


Change Management Approach
From project-delivery methods to workforce challenges, change is constant in every organization. Those who adapt best will be the most successful. How efficient your project management information system is in handling the changes and how comfortable are your people in using the technology?
OnIndus PMIS empowers your people to handle changes across a construction project from their origin to diagnostic and predictive analysis to resource requirement to apply the changes to successful implementation as shown in the above image. It enforces a sense of accountability and responsibility because each of the incidents has a time-stamp – time and signature of the users. It means it's easy to track and locate faults and make a correction to the project. When configuring the PMIS, make sure that the roles of your staff are clearly defined and that people are empowered to communicate openly.
To stay competitive, the current time demands that you invest in the right technology that makes it easy for you to handle changes to meet objectives, remain compliant and profitable.
5. System Integration

Source
Lack of capital and cash flow, poor planning and governance, lack of change management, and lack of adequate staff training are some of the pressing issues that force construction companies out of business.
Interestingly, most of the issues, if not all, can be addressed and are preventable. Roping in the data or information spread across multiple operations of your construction project, you can have a better picture of capital and cash flow availability. It helps you plan accordingly and build a business continuity or resilience program to cope with any crisis if it comes across. Check the system integration capabilities of the PMIS you invest in. The built-in data warehouse framework of OnIndus Maestro project management system unites all key operations and processes of a construction project seamlessly. The integration makes the information easily accessible to authorized users upon successful authentication across any device from desktop to mobile and everything in between.
It's clear that the PMIS technology investment helps in enhancing project governance and controls, optimizing human performance, reducing errors, and accelerating project delivery. Want to reap the benefits of technological innovation in the construction sector? Get in touch with OnIndus today!