What will it take for construction organizations to remain effective in the current scenario and environment?
Trust, as well as dependence on real-time integrated Business Intelligence (BI)is becoming increasingly critical and imperative to stay relevant in today's competitive market. Even though modern Business Intelligence has proven to be valuable in some of the industry's leading companies, there are quite a few players who are still disinclined to move ahead and implement the right software.
One of the many reasons for this reluctance could be the belief that the software itself is not easy to integrate with existing systems or difficult to use. But the fact remains that the leading products available today are designed and adapted unambiguously for the construction industry.
To put things into perspective, here are some benefits of the right construction Business Intelligence software solution like OnIndus Orchestra:
– Enhancing the speed of business operations
– Assisting in making faster data-based decisions
– Optimizing cost controls
– Leveraging process efficiency at all levels
– Providing customized reporting
Businesses that have implemented OnIndus' Business Intelligence solution have been adept in transforming their program data into key business insights. It has empowered them to avoid operational risks and improve the performance of all their teams working on large capital programs. Thriving on opportunities and adapting to challenges that might arise at any stage from project planning to delivery; these construction companies have successfully been able to keep their business agile in the constantly evolving business landscape.
How to Understand Business Intelligence (BI)?
To put it simply, Business Intelligence is collecting data, then sorting and analyzing it to make informed business decisions. Construction companies of all sizes continue to collect huge amounts of project data on a daily basis. Implementing BI protocols can help insetting automated processes that can efficiently track and analyze useful data that can be leveraged to maximize operational efficiency. It will not just reduce risks on jobsites but also lower costs and eventually lead to higher profit margins.
Without the advanced capabilities that tools like OnIndus Business Intelligence solution offers, it would be a mammoth task to evaluate and make meaning use of that collected data.
We need to understand that the challenge does not lay with the data itself but more so in the process of turning That data into actionable intelligence that can drive improved business performance.
Would you still like to be stuck in the outdated use cycle of manual entry, spreadsheets and CSV files, which hamper sharing and optimizing data? What you require is a reliable Business Intelligence solution like OnIndus Orchestra that allows data to be accessed and updated in real time.
There are three primary opportunities for automation that are present in construction, and they are as follows:
Types of Business Intelligence (BI) Tools and Software
In the current scenario, applications, infrastructure, tools and best practices from system integrators are available to construction firms that are looking to make good use of their capital project data. And they are bringing fantastic benefits to all users. From in-depth reports to analytics and asset-specific dashboards, creative charts, graphs and trend mapping, OnIndus BI software is sure to consolidate all current and historical project data and deliver actionable insights in a standardized format.
OnIndus Business Intelligence solution can help you gain a competitive edge and optimize costs as well as identify risks ahead of time.
Business Intelligence Strategy
A construction project can benefit a great deal with a customized Business Intelligence strategy that can help turn your enterprise data warehouse into insightful reports for successful outcomes. It will act as a blueprint and help you chart out a plan to use the copious amount of data in your organization to enhance transparency between construction teams and business functions.
For the right strategy to be implemented, you would need to address some key questions:
How and who will deploy your Business Intelligence solution?
How will your technology partner help you customize the tool as per your organization?
And how will the software enable your people to make informed, data-driven decisions?
A strategy using OnIndus Orchestra will aid your construction firm to leverage the power of actionable insights and reap the consequential benefits attached to it.
Your Business Intelligence strategy needs to be properly aligned with your business goals and vision, as it has the potential to drive your organization towards complete and substantial digital transformation. 
Cost-Benefit Analysis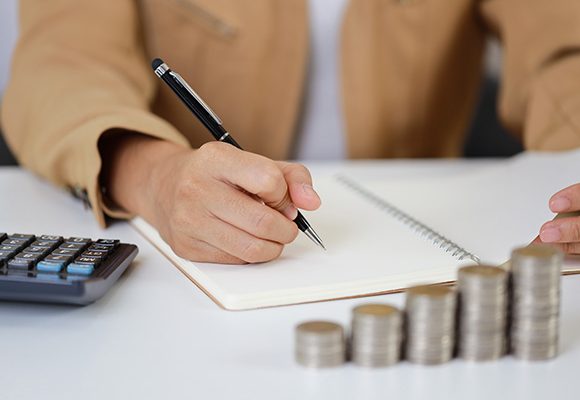 Implementing OnIndus' Business Intelligence solution is great for delivering real-world value for your construction projects. As the decision-makers and stakeholders of a construction business, operating programs and systems that are mapped with BI can help you boost field productivity and make quicker business-critical decisions.
However, we see very few organizations taking complete advantage of such BI tools due to low adoption rates among employees and larger teams. One of the main reasons behind this is the challenge around the understanding of BI implementation due to poor cost-benefit analysis.
Delving deeper into this analysis, let's first have a brief glimpse at what the process looks like and then understand the scope for BI implementation and its respective impact.
During the analysis stage, the BI tool needs to "talk" to the right systems in order to fulfill its duty of delivering accurate data and generating reports. Add to that, the possibilities of human-induced errors that make the process even more complex in the absence of expert system integration. As the success of a BI solution depends on such variable factors, slow adoption rates have become the default expectation. To understand this, you can simply take the following into consideration:
Cost of human error
Cost of lost opportunities due to lags in human discretion
Cost of delayed decisions
When this cost element is compared with the cost of having a bespoke Business Intelligence solution like OnIndus Orchestra, we can clearly see that erroneous data, insightful narratives and smart analytics can be easily solved with the right BI tool.
Business Intelligence Analyst
OnIndus Business Intelligence analysts excel in transforming data into insights that will help you drive business value. With the fantastic use of data analytics and data modeling techniques that leverage advanced technologies, OnIndus BI analysts can help to easily identify trends that could lend themselves to enhancing functions across all departments. Along with managers and team leads, Business Intelligence analysts can help accelerate the decision-making process easier for the leaders in an organization.
What is the Difference Between Business Intelligence and Business Analytics?
The difference between BI, data analytics, and business analytics is quite nuanced and subtle; and they make things more confusing, by often being used interchangeably. 
OnIndus Business Intelligence software takes care of collecting, storing and analyzing data from your business operations. The service provides wide-ranging business metrics, in almost real-time format that helps revolutionize the decision-making process by elevating it to another level. 
While on the other hand, Business Analytics (BA) is the practice of putting to use your company's data to anticipate trends and results. BA includes data mining, statistical analysis, as also predictive modeling. This also aids the ability to take more informed decisions, but is limited in scope.